Output AC Reactor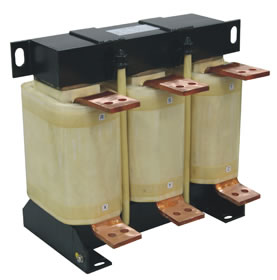 click here for table
Output AC Reactor
This product has been discontinued and removed from our shelves.
Functions of Output AC Reactor
1. Decrease the motor noise and the eddy-current losses
2. Decrease the leakage current caused by high ultra harmonics
3. Reduce transient voltage dv/dt and increase the serving time
4. Protect the power switch components of inverter

Features of Output AC Reactor
1. According to customers' using frequency, different magnetic materials could be chosen from silicon-steel plate, ferrite, noncrystalline core, magnetic powder core.
2. Our output AC reactor employs high-performance foil winding structure. It owns properties include: low DC resistance, high anti-electromagnetic performance, large short-term overload capacity.
3. It adopts high-performance composite insulation material (above F) and could maintain reliable performance in harsh working conditions.
4. Low magnetic flux intensity, superior linearity, large overload capacity, and low noise with vacuum pressure impregnation.
Parameters of Output AC Reactor
1. Rated Voltage: 380V/50Hz or 660V/50Hz
2. Rated operating current: 5A to 1600A@40℃
3. Reactive Strength: Core-Winding 3000VAC/50Hz/5mA/10S Free of arcing breakage (tested in factory)
4. Insulation Resistance: 1000VDC, insulation resistance≥100MΩ
5. The noise of reactor is less than 65dB (measured at the point 1 meter away from the reactor horizontally)
6. Protection class: IP00
7. Insulation class: Above F
8. Standard: IEC289: 1987 Reactor
GB10229-88 Reactor (equivalent to IEC289:1987)
JB9644-1999 Reactor for semi-conductor transmission


Model
Picture
Power (kw)
Inductance
(mH)
Dimensions (mm)
D
D1
W
W1
H
A*B
C
OCL-0005-EISC-E1M4
A
1.5
1.4
110
91
84
65
130
6*11
/
OCL-0007-EISC-E1M0
2.2
1
110
91
84
65
130
6*11
/
OCL-0010-EISC-EM70
3.7
0.7
110
91
84
65
130
6*11
/
OCL-0015-EISC-EM47
B
5.5
0.47
155
95
76
61
130
6*15
/
OCL-0020-EISC-EM35
7.5
0.35
155
95
76
61
130
6*15
/
OCL-0030-EISC-EM23
11
0.23
155
95
96
81
150
6*15
/
OCL-0040-EISC-EM18
15
0.18
155
95
96
81
150
6*15
/
OCL-0050-EISC-EM14
18.5
0.14
155
95
96
81
150
6*15
/
OCL-0060-EISC-EM12
22
0.12
195
120
92
72
165
8.5*20
/
OCL-0080-EISC-E87U
C
30
0.087
195
120
92
72
165
8.5*20
φ9
OCL-0090-EISC-E78U
37
0.078
195
120
92
72
165
8.5*20
φ9
OCL-0120-EISC-E58U
45
0.058
195
120
112
92
165
8.5*20
φ9
OCL-0150-EISH-E47U
55
0.047
250
182
113
87
230
11*18
φ11
OCL-0200-EISH-E35U
75
0.035
250
182
123
97
230
11*18
φ11
OCL-0250-EISH-E28U
90
0.028
250
182
123
97
230
11*18
φ11
110
OCL-0290-EISH-E24U
132
0.024
290
214
127
101
250
11*18
φ12
OCL-0330-EISH-E21U
160
0.021
290
214
132
106
275
11*18
φ12
OCL-0390-EISH-E18U
185
0.018
290
214
132
106
275
11*18
φ12
OCL-0490-EISH-E14U
D
220
0.014
320
243
143
113
320
12*20
2-φ12
OCL-0530-EISH-E13U
250
0.013
320
243
143
113
320
12*20
2-φ12
OCL-0600-EISH-E12U
280
0.012
320
243
158
128
320
12*20
2-φ12
OCL-0660-EISH-E11U
300
0.011
320
243
158
128
320
12*20
2-φ12
OCL-0800-EISH-E8U7
380
0.0087
385
260
395
175
395
12*20
2-φ12
OCL-1000-EISH-E7U0
450
0.007
385
260
395
175
395
12*20
4-φ12
OCL-1200-EISH-E5U8
550
0.0058
395
275
295
175
435
12*20
4-φ12
OCL-1600-EISH-E4U3
630
0.0043
395
275
295
175
435
12*20
4-φ12