DV/DT Filters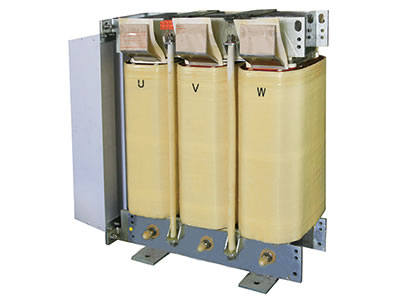 Functions and Application (dt/dv filters applied to cables over 100m in length)
The DV/DT filter protects your servo motor by minimizing the peak voltage that occurs at the motor terminals. It also offers maximum protection for cables and motor windings from premature aging or dielectric breakdown. All these result in extended motor life, improved reliability and uptime. The use of an electrical filter also minimizes electromagnetic interference to adjacent equipment, power or signal circuits, reduces current leakage that might occur in the ground wire, and attenuates the interference as the contactor between the filter and the motor is switched. This DV/DT filter design meets the output voltage requirements of IEC 60034-17, 60034-25.
Normal Cable Parameters (without Input Reactor)
Power rating (KW)
Max. current(A)
Main cable (UL AWG)
Rated Inductance
Rated capacitance (conductor to conductor)
Rated capacitance conductor to conductor & shield
Rated Conductor DC Resistance @20 °C
Max. Recommended Current@30 °C (Amps)
(Uh/ft)
(Uh/m)
(H/Km)
(pF/ft)
(pF/m)
F/KM
(pF/ft)
(pF/m)
(Ohm/1000ft)
(Ohm/1000m)
5.5
12.8
AWG14
0.213
0.699
6.988189E--04
23
75.5
7.545932E--08
42
137.8
2.52
8.268
25
11
24.8
AWG10
0.184
0.604
6.036745E--04
29
95.1
9.514436E--08
53
173.9
0.989
3.245
40
The output dt/dv of a VFD is 3000V/μS. According to the power distribution parameters of a shielded cable, the critical length of traveling wave reflection is about 15m. If the cable is less than 15m, the output reactor can be spared.
Due to the inconformity of the distribution parameters of cables in the engineering industry, the output dt/dv of a servo motor is much larger than 3000V/μS, so it is advised that reactors with 1% voltage drop should be used if the cable length is more than 10m.
Differential Mode Test Data
Switch frequency
Test point
50m unshielded cable
150m unshielded cable
500m unshielded cable
Ubus
Upeak
dv/dt
Ubus
Upeak
dv/dt
Ubus
Upeak
dv/dt
4KHz
Drive output
525
603
2275
525
588
2218
525
603
2394
Fliter output
537
594
63
528
609
98
528
744
69
Moter side
501
564
70
501
570
109
438
696
79
8KHz
Drive output
528
603
2353
528
594
2215
525
603
2275
Fliter output
525
573
68
528
615
91
525
744
69
Moter side
501
537
81
498
582
101
414
672
82
Without dt/dv filters, the peak voltage at motor terminals can reach over 1000V. (Cable length: 100m )
Common Mode Test Data
Operating current(A)
Load
CM voltage(V)
CM current(A)
538
13
76
80%
275.5
1.9
CM Test Date of 95A dv/dt filter (Cable length: 100m )