Laminated Busbar

Product Profile
The laminated busbar is applied to connect the power devices of the electrical and electronic product. It reduces the distributed inductance of the circuit by means of the structural style of the lamination and parallel distribution of the anode and cathode. In this way, the voltage surge is reduced when the power component is turned off. Therefore, this product lowers the requirement for the voltage resistance of the power component, improves the reliability and stability of the operation of the component and meanwhile enhances the integration level of the current circuit. Last but not least, it is convenient for maintenance.
This laminated Busbar could be customized or specified according to your design or drawings. Clients can also provide information of real application information for us and we can design products on the basis of such information.
Features
1. Low inductance coefficient
2. Compact Structure and effective use of space and control of the system temperature
3. Minimal impedance and voltage drop
4. Strong overload capacity
5. Reduction of the harms caused by peak voltage to the components and extension of the service life of the electronic components
6. Reduction of the system noise and the electromagnetic interference/radio frequency interference
7. Easy installation and convenient on-site maintenance
8. Fewer components and improvement of the system reliability
9. Equally distributed capacitance
10. Simplicity and beauty in appearance
Product Parameters
| | |
| --- | --- |
| Item | Description |
| Operating voltage range | 0~20kV |
| Rated current range | 0~3600A |
| Product structure | Hot pressing edge sealed, hot pressing edge open, hot pressing edge with potting |
| Max. size | 1600×800mm |
| Flame rating | UL94 V-0 |
| Conductor material | T2 Cu 、 1060 AL |
| Conductor surface treatment | Passivation, tin plated, nickel plated or silver plated |
| Connection with the device | Embossing, riveted bronze columns, welded copper columns |
| Insulation resistance | 20MΩ ~ ∞ |
| Partial discharge | <10PC |
| Temperature rise | 0 ~ 40K |
Testing and Validation Capabilities
Item  
Capability of Test 
Test Equipment 
Reference Standard 
Type of Test
Factory Examination
Type Test
Reliability Testing
Appearance
Yes
Non
/
*
 
 
Product Size
Yes
2.5D Optical Instrument
/
*
*
 
Insulation Resistance
Yes
Insulating Dielectric Strength Tester
GB/T 24343-2009 6
*
*
 
Dielectric Strength
Yes
Insulating Dielectric Strength Tester
GB/T 24344-2009 5.4
*
*
 
Partial Discharge
Yes
Partial Discharge Tester
GB/T 16935.1-2008
*
*
 
Temperature Rise Test
Yes
Programmable Frequency Converter
/
*
*
 
Distributed Inductance Test
Yes
Inductance Detector
/
 
*
 
Distributed Capacitance Test
Yes
Digital Electrical Bridge
/
 
*
 
Fastness Test
Yes
Electronic Universal Testing Machine
/
 
*
 
Torsion Test
Yes
Torque Wrench
/
 
*
 
Combustion Test
Outsourcing Test
UL 94
 
*
 
Low Temperature Test
Yes
Constant Temperature and Moisture Test Chamber
GB2423.01 2001
 
 
*
High-temperature Test
Yes
Constant Temperature and Moisture Test Chamber
GB2423.02 2001
 
 
*
Damp Heat Test
Yes
Constant Temperature and Moisture Test Chamber
GB2423.3 2006
 
 
*
High-low Temperature Cycling Test
Yes
Constant Temperature and Moisture Test Chamber
GB2423
 
 
*
Salt Spray Test
Yes
Salt Spray Test Chamber
GB2423.18-2000
 
 
*
Peel Strength Test
Outsourcing Test
/
GB/T 2790-1995
 
 
*
Selection of Insulation Materials
The low inductance of the laminated busbar could be ensured by using excellent insulating materials. In order to meet a series of requirements for the electric insulation or environment, customer could make an optimal option on the basis of actual application environment.
Material and Performance
Density
(g/cm³ )
Thermal Expansion
Coefficient
Thermal
Conductivity
W/(kg.K)
Permittivity
(f=60Hz)
Dielectric
Strength
(kV/mm)
Flammability
Rating
Continuous Use
Temperature
Water
Absorption
(%)/24h
NOMEX
0.8~1.1
 
0.143
1.6
9
94 V-0
220
 
Polyimide


1.42
20
0.094
3.5
9
94 V-0
220
0.24
Polyvinyl Fluoride


1.38
53
0.126
10.4
19.7
94 V-0
105
0
Polyester Film


1.38~1.41
60
0.128
3.3
25.6
94 V-0
120
0.1~0.2
Characteristics of the Insulation Material
NOMEX
Polyvinyl Fluoride
Polyester Film
Polyimide
Excellent fire resistance and heat resistance;
good chemical resistance;
Favorable Mechanical Performance; Radiation resistance
Excellent electrical performance and steady chemical property;
Low hygroscopicity and flame resistance.
Good electrical performance and chemical corrosion resistance;
Low hygroscopicity and economical price.
Favorable heat resistance,
excellent electrical
performance; Radiation
resistance and flame
resistance.
Simulation Picture of the Laminated Busbar

Traditional Copper Bar Current Distribution Ls=73.4nH
Bus Bar Current Distribution Ls=10.6nH
Relationship between the Inductance of the Busbar and the Thickness of the Layer Insulation Material of the Busbar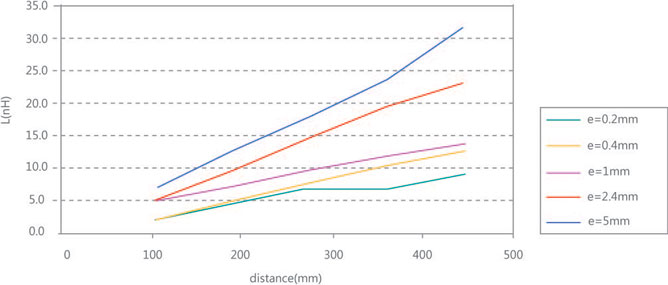 Range of Application
Power Electronics
Industrial inverter, inverters, wind power, UPS systems
high density power distribution cabinets, electric
welding machines, test equipment, large server and medical equipment
Transportation
Electric locomotives, Railway trains, electromobile
Electrically driven ships
Aerospace and space
Satellite systems, Airliner, Space Shuttle, Missile systems
Military
Submarines, Communication systems, Armored
vehicles Radar systems
Communication
IT servers, super computers
Connection
Advantage
Disadvantage
Cost
Embossing
Good performance, high reliability
Technological limitations
Low
Riveted bronze columns
Easy to make and it can meet all kinds of design requirements
Moderate mechanical performance, it is not suitable for harsh working conditions
Moderate
Tin-brazed copper columns
Good mechanical performance, wide application range
/
High
Silver-brazed copper columns
Compared with tin-brazing, it has lower resistance and higher temperature resistance
High cost
Higher
Treatment Scheme of Busbar Terminal Connection Stress
| | | | |
| --- | --- | --- | --- |
| Solution | Advantage | Disadvantage | Cost |
| Slot | Easy to make, moderate cushioning effect | Lower electric performance | Low |
| Local terminal heat treatment | Easy to make, good cushioning performance | If contact area is large, contact resistance will be increased and electrical performance will be decreased | Moderate |
| Copper woven belt connection | Good cushioning performance, the assembly deviation has compensated | The terminal is longer and the stray inductance has increased | High |
| Soft joint with copper foil | Good cushioning performance, the assembly unidirectional deviation has compensated | The terminal is longer and the stray inductance has increased | Highest |
Markets & Applications
Dimensions
1107x176(mm)
Conductor layers
2
Rated voltage
1300VDC
Rated current
670A
Min. current density
2.1A /mm~2
Application fields
Wind Power
Packaging forms
Hot pressing edge-sealed
Product features
Local high current of terminals and low cost for embossing
Dimensions
450x418(mm)
Conductor layers
2
Rated voltage
1000VDC
Rated current
600A
Min. current density
2.6A /mm~2
Application fields
Photovoltaic power generation
Packaging forms
Hot pressing edge-sealed
Product features
Different installation surfaces for components; high space utilization rate; one-time lamination of Z-shape
Dimensions
2400x240(mm)
Conductor layers
2
Rated voltage
1200VDC
Rated current
2500A
Min. current density
1.67A /mm~2
Application fields
Ship
Packaging forms
Hot pressing edge with potting
Product features
Super long and super thick; the soft connection is designed to eliminate vibration stress; triple mechanical reinforcement through hot pressing, edge sealed and screws
Dimensions
620x510(mm)
Conductor layers
2
Rated voltage
1000VDC
Rated current
600A
Min. current density
1.6A /mm~2
Application fields
Photovoltaic power generation
Packaging forms
Hot pressing edge-sealed for capacitor modules
Product features
Busbar and capacitors constitute the modules, which have higher comprehensive performance and lower overall cost