DC Reactor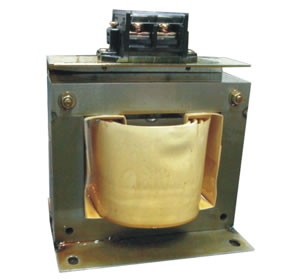 click here for table
DC Reactor
This product has been discontinued and removed from our shelves.
Benefits of DC Reactor
1. Modify abnormal input current waveform caused by capacitor filtering
2. Avoid damage to Rectifier Bridge and over temperature of capacitor caused by surge current.
3. Increase power factor and decrease AC pulse of DC Bus bar.
4. Restrict the instantaneous variation of electric network.
Features of DC Reactor
1. Highly heat-insulated composite material and unframed structure endow this DC reactor with superior heat resistance. F class and H class heat resistance classes are both available for your choice.
2. Our DC reactor is argon arc welded with low noise, low magnetic leakage and stable inductance.
3. Loops are wound with strong electromagnetic resistance and neat appearance.
4. It employs low-lost cold rolled silicone steel sheet, which is of high reliability and low weight.
Parameters of DC Reactor
1. Rated Voltage: DC500~1000V
2. Rated operating current: 3A to 1500A@40℃
3. Reactive Strength: Core- Winding 3000VAC/50Hz/10mA/10S Free of arcing breakage (tested in factory)
4. Insulation Resistance: 1000VDC, insulation resistance≥100MΩ
5. Reactor's noise is less than 65dB(to be measured at the point 1 meter away from the reactor horizontally)
6. Protection class: IP00
7. Insulation class: Above F
8. Standard: IEC289: 1987 Reactor
GB10229-88 Reactor (equivalent to IEC289:1987)
JB9644-1999 Reactor for semi-conductor transmission
Dimensions of DC Reactor

Model
Picture
Adaptation Power (kw)
Rated Current (A)
Inductance
(mH)
Weight
(kg)
External
Dimensions
Installation Dimensions
L×W×H
L×W
DCL-0003-EIDC-E28M
A
0.4
3A
28mH
1.5
80*65*110
63*47
DCL-0003-EIDC-E28M
0.75
3A
28mH
1.5
DCL-0006-EIDC-E11M
1.5
6A
11mH
2.3
80*85*110
63*60
DCL-0006-EIDC-E11M
2.2
6A
11mH
2.3
DCL-0012-EIDC-E6M3
3.7
12A
6.3mH
3.2
100*100*125
80*70
DCL-0012-EIDC-E6M3
4
12A
6.3mH
3.2
DCL-0023-EIDH-E3M6
5.5
23A
3.6mH
3.8
110*120*135
87*70
DCL-0023-EIDH-E3M6
7.5
23A
3.6mH
3.8
DCL-0033-EIDH-E2M0
11
33A
2.0mH
4.3
DCL-0033-EIDH-E2M0
15
33A
2.0mH
4.3
DCL-0040-EIDH-E1M3
18.5
40A
1.3mH
4.3
DCL-0050-EIDH-E1M1
22
50A
1.08mH
5.5
120*135*145
95*85
DCL-0065-EIDH-EM80
30
65A
0.8mH
7.2
138*150*170
111*85
DCL-0078-EIDH-EM70
37
78A
0.7mH
7.5
DCL-0095-EIDH-EM54
45
95A
0.54mH
7.8
DCL-0115-EIDH-EM45
55
115A
0.45mH
9.2
155*160*195
125*90
DCL-0160-EIDH-EM36
B
75
160A
0.36mH
10
165*130*215
100*98
DCL-0180-UIDH-EM33
90
180A
0.33mH
20
DCL-0250-EIDH-EM26
110
250A
0.26mH
23
210*150*255
176*115
DCL-0250-UIDH-EM26
132
250A
0.26mH
23
DCL-0340-UIDH-EM17
160
340A
0.17mH
23
DCL-0460-EIDH-EM09
185
460A
0.09mH
28
220*150*280
191*115
DCL-0460-UIDH-EM09
220
460A
0.09mH
28
DCL-0650-UIDH-E72U
300
650A
0.072mH
33
235*160*280
206*125