Detuned Reactor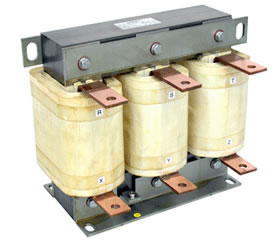 Detuned Reactor
This product has been discontinued and removed from our shelves.
Features of Detuned Reactor
1. Detuned reactor adopts DuPont Nomex, which is highly heat-resistant and insulated.
2. It employs high-quality cold rolled silicone steel sheet, which causes low lost and are superior in high frequency characteristics.
3. Low magnetic flux intensity, superior linearity, large overload capacity.
4. It uses vacuum pressure impregnation to ensure low noise and high anti-corrosive performance.
Applications of Detuned Reactor
1. Restrain higher harmonics and inrush phenomenon
2. Improve power factor of system
3. Reduce pollution caused by harmonic reactor
4. Avoid over amplification and harmonic resonance caused by the access of capacitor
Parameters of Detuned Reactor
1. Good linearity
2. Vacuum pressure impregnation
3. Noise≤65dB
4. Temperature Class: Class F or H (Optional)
5. Standard: IEC289,GB10229-88;
6. Rated Operation Voltage: 230V-690V;
7. Impedence: 5.6%, 7%, 14%
8. Inductance Difference Between Phases:±10%
9. 1.35 times of long time overload
10. Insulation Resistance: DC1kv, ≥100MΩ
11. Dielectric Strength: 3.5KV, 50Hz, 1min
12. Thermal Protection Switch: 140℃, 2A,250V
13. IP00.