Aluminum Enclosure Resistor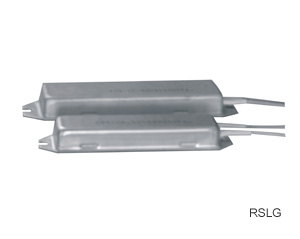 click here for table
Aluminum Enclosure Resistor
This product has been discontinued and removed from our shelves.
Features of Aluminum Enclosure Resistor
1. Aluminum enclosure resistor is superior to conventional ceramic resistor in terms of safety, weatherproof and shockproof qualities.
2. Additional radiator could be easily fixed to this aluminum enclosure resistor.
3. With elegant appearance, it is an ideal tool to be applied in power supply, inverter and servo system.
1. Parameters of Aluminum Enclosure Resistor (RSLG)
Rated Power Range: 60W~120W
Rated Voltage Range: 0.5KV-2KV
Resistance Range: 1R-10KR
Resistance Voltage: AC3KV 5S 50Hz
Insulated Resistance: DC1000V ≥100MΩ
Vibration: 1.5g
IP class: IP33-IP54
Overload Capacity: 10 times 5S
Rated Temperature Rise: 375℃
Temperature Drift: 40~400ppm/℃
Storing temperature:-40℃-50℃
Resistance Material: 0Cr25AL5/ Cr20Ni80
Standard: GB/T 5729

Model
Power(w)
Picture
Dimensions(mm)
Weight (kg)
Resistance
A
B
C
D
E
F
G
H
RSLG
60
A
100
30
13
90
4.5
0.75
75
400
0.16
1Ω~10KΩ
RSLG
80
150
34
19
140
5
0.75
125
400
0.2
1Ω~10KΩ
RSLG
120
182
42
20
172
6
0.75
150
400
0.24
1Ω~10KΩ
2. Parameters of Aluminum Enclosure Resistor (RXLG)
Rated Power Range: 60W~2000W
Rated Voltage Range: 0.5KV-2KV
Resistance Range: 1R~10KR
Insulated Resistance: DC1000V ≥100MΩ
Resistance Voltage: AC3KV, 5S, 50Hz
IP class: IP33-IP544
Vibration: 1.5g
Rated Temperature Rise: 375℃
Overload capacity: 10 times 5S
Temperature Drift: 40~400ppm/℃
Resistance Material: 0Cr25AL5/ Cr20Ni80
Packing: paper box packing
Storage temperature: -40℃~50℃
Standard: GB/T 5729


Top
Model
Power (w)
Picture
Dimensions(mm)
Wiring (mm2)
Leadwire Length (mm)
Terminal
Weight (kg)
A
B
C
D
RXLG
60
A
115
98
40
20
2.5
500
M4
0.16
RXLG
80
140
123
40
20
2.5
500
M4
0.2
RXLG
100
165
148
40
20
2.5
500
M4
0.24
RXLG
120
190
173
40
20
2.5
500
M4
0.28
RXLG
150
215
197
40
20
2.5
500
M4
0.318
RXLG
200
165
147
60
30
2.5
500
M4
0.463
RXLG
300
215
197
60
30
2.5
500
M4
0.619
RXLG
400
365
247
60
30
2.5
500
M4
0.8
RXLG
500
335
317
60
30
2.5
500
M4
1.03
RXLG
800
400
382
61
59
2.5
500
M4
2.21
RXLG
1000
B
400
384
50
107
2.5
500
M4
3.59
RXLG
1200
450
434
50
107
2.5
500
M4
3.98
RXLG
1500
485
470
50
107
2.5
500
M4
4.34
RXLG
2000
550
532
50
107
4
500
M4
4.89
Product Identification Code:

Product Type
RXLG Type
Rated Power
10W-2000W
Resistance Value(ohm)
(Ω) inedicates resistance
value in units of ohms
Resistance Tolerance
K=±10%
J=±5%
Connection
M=Terminal
J=Lead