Aluminium Resistor (Multiple Unit)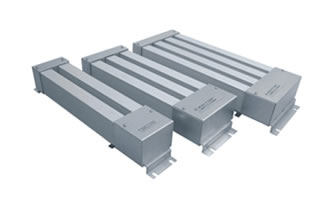 Aluminium Resistor (Multiple Unit)
This product has been discontinued and removed from our shelves.
Aluminum resistor (multiple unit) offered by Eagtop is comprised of several aluminum resistors. A metal shell is applied
to provide high-level protection to these aluminum resistors. Our aluminum resistor (multiple unit) could be applied to power supply, inverter, servo system and more.
Parameters of Aluminum Resistor (Multiple Unit)
Rated Power Range: 200W~3000W
Rated Voltage Range: 0.5KV-2KV
Resistant Voltage: AC3KV, 5S, 50Hz
Resistance Range: 1R~10KR
Insulated Resistance: DC1000V ≥100MΩ
Vibration: 1.5g
Rated Temperature Rise: 375℃
Overload capacity: 10 times 5S
Temperature Drift: 40~400ppm/℃
Resistance Material: 0Cr25AL5/ Cr20Ni80
Storage temperature: -40℃~50℃
IP Class: IP54
Standard: GB/T 5729