Braking Resistor Box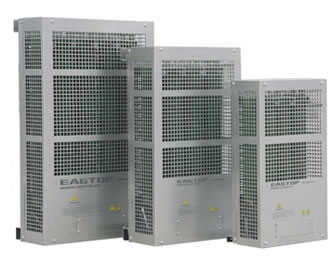 click here for table
Braking Resistor Box
This product has been discontinued and removed from our shelves.
Generally, an electrical motor or other inductive load adopts dynamic braking to reach a halt. That is to say, it employs an additional dissipative cell to consume the kinetic energy and magnetic energy to realize fast brake. When the power supply is cut off, the inverter would send the remaining kinetic energy to DC bus. The voltage of DC bus will thus increase. When the voltage is up to a certain value, the braking resistor will come into use and consume the energy through resistance heating. The voltage on the DC bus will then be reduced to a normal value.
Features of Braking Resistor Box
1. Braking resistor box is assembled with Wirewound resistors.
2. It is equipped in an alclad shell with IP class up to IP20.
3. Hard-wired inner connection
4. Elegant and fire proof
Application of Braking Resistor Box
Eagtop braking resistor box is a resistor box that are assembled with Wirewound resistors and are applicable to circuits of inverter for braking equipment with large rated power and current, testing equipment, elevator and crane.
Parameters of Braking Resistor Box
Range of rated power: 2.4W-10KW
Range of voltage: 0.5KV-3KV
Range of resistance: 1R-1KR
Voltage resistance: AC2.5KV-5KV, 1min, 50Hz
Insulated resistance: DC 1000V ≥100MΩ
IP class: IP00-IP23
Vibration: 0.5g
Rated temperature rise: 375℃
Temperature drift: 40-400ppm/℃
Resistance material: 0Cr25AL5/Ni80Cr20
Storage Temperature: -40℃~50℃
Standard: GB/T 5729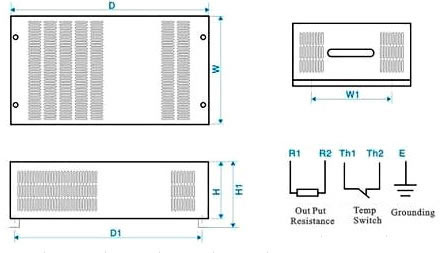 Model
Power (KW)
Dimensions (mm)
Terminal
Weight (kg)
Wiring (mm2)
Combination
W
D
H
H1
D1
W1
BRU
1
250
500
125
150
480
180
M6
5.3
6
0.5KW*2
1.5
250
500
125
150
480
180
M6
5.9
6
0.5KW*3
2
280
500
145
170
480
210
M6
6.5
6
1.0KW*2
3
280
500
145
170
480
210
M6
7.8
6
1.5KW*3
4.5
340
600
145
170
580
291
M6
12
6
1.5KW*3
6
340
600
145
170
580
291
M6
14
6
1.5KW*4
8
410
685
145
170
642
340
M6
16.5
6
2.0KW*4
10
410
685
145
170
642
340
M6
18.5
6
2.0KW*5
16
410
685
145
340
642
340
M6
18.5
6
8KW*2
20
410
685
145
340
642
340
M6
18.5
6
10KW*2
Product Identification Code:

Product Type
Rated Power
1KW-10KW
Resistance Value(ohm)
(Ω) inedicates resistance
value in units of ohms
Resistance Tolerance
K=±10%
J=±5%