Sine Wave Filter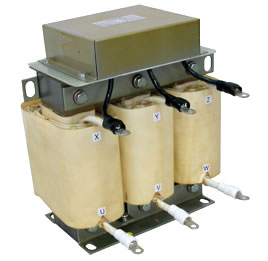 Sine Wave Filter
This product has been discontinued and removed from our shelves.
Function of Sine wave filter
1. Sine wave filter could provide a sine-wave output voltage when driven from PWM inverters
2. By eliminating the high dv/dt, it could save you from the problem of overvoltage of electromotor.
3. It could eliminate the premature aging to electromotor caused by eddy current lost
4. It could reduce the noise made by electromotor

Feature of Sine Wave Filter
1. Our sine wave filter adopts foil winding structure. It features low DC resistance, high anti-electromagnetic performance, and large short-term overload capacity.
2. It adopts high-performance composite insulation material (above F), which enables it to maintain reliable performance in harsh working conditions.
3. It is highly-insulated and could endure high dv/dt voltage surge.
4. It adopts vacuum pressure impregnation to ensure low noise.
Parameters of Sine Wave Filter
Max operating current: 400V AC /690V AC at 40℃
Rated current: 5-500A at 40℃
Max electromotor frequency: 60Hz
Switch frequency: 2-80KHz
High pressure tests: P-E 3000V AC lasting 3 seconds (tested in factory)
P-E 30000V AC lasting 3 seconds (tested in factory)
IP class: IP00
Insulated class: T40/F (155℃)
Temperature range: -25℃ to +85℃( To be degraded when it is higher than 40℃)
Maximum Cable length: 1000m
Rated voltage drop: 8~12%uk
Harmonic distortion: ~5%
Overload: 2 times of current 30S
1.5 times of current 1min