Reactor with Energy Feedback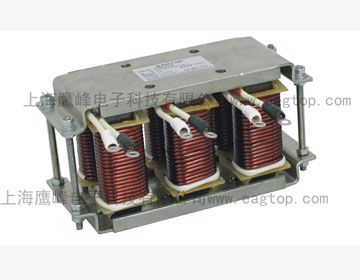 Reactor with Energy Feedback
This product has been discontinued and removed from our shelves.
Product Profile
In the braking process of the inverter, this reactor with energy feedback is used to filter the ultra-harmonics which generates regenerative energy feedback in the power grid. We also provide customized product on the basis of the demands of clients and the mining plants.
Features
The product is made by winding the class 200 polyimide enameled wire with high temperature and high pressure resistance. In the circuit, the enameled wire can bear the impact of higher dv/dt impulsive wave. This reactor with energy feedback uses the imported magnetic powder core from South Korea and the power core is characterized by low consumption of iron core, high operating frequency, strong overload capacity, low density and light weight. With a structure free of air gap, the reactor with energy feedback is characterized by simple and aesthetic formation, low leakage flux and reliable inductance in long time. The coefficient of dilatation of the hysteresis lag is zero. The noise of this device is less than 60dB under a 1-30 kHZ frequency working environment. It is especially suitable for filtering the energy feedback of elevator.
Product Size

Current Range: 5A-80A
Application: For 2.2Kw-37Kw inverter with optional insulation grade of F and H. UL approval material is provided by us.
Technical Parameters
| | | | | | |
| --- | --- | --- | --- | --- | --- |
| No. | Item | Measuring Terminal | Measured Value | Test Condition | Test Instrument |
| 1 | Inductance Value | U-X,V-Y,W-Z | 0.55mH±15% | 100Hz 1V Environment Temperature | TH2811C TCR digital electrical bridge |
| 2 | Nominal voltage | / | 380V | 50Hz | / |
| 3 | Rated Current | U-X,V-Y,W-Z | 30A | / | Fluke 31B clip-on ammeter |
| 4 | Dielectric Strength | Iron core-Winding | AC3000V/5mA/10s | No flashover breakdown | GPI-725A High voltage insulation resistance tester |
| 5 | Insulation resistance | Iron core-Winding | ≥100MΩ | DC1000V | GPI-725A High voltage insulation resistance tester |
| 6 | Noise | The hottest spot of the winding | 65dB | / | / |
| 7 | Protection Grade |   |   | IP00 | IP00 |