Reactor Vertical Winding Process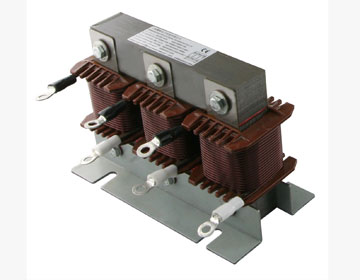 Reactor Vertical Winding Process
This product has been discontinued and removed from our shelves.
Product Profile
The reactor vertical winding process is mainly used in the single-phase and three-phase reactor with the traditional rated working current ranging from 5-120A. During the application, one or several insulating copper or aluminum flat wire winds the framework of the reactor in the horizontal direction and the winding is often of multiple layers.
Range of Application
Inverter input and output reactor; inverter DC reactor, electric automobile, BOOSTING reactor; other below 120A single-phase and three-phase reactor.
Features
Any product winded by the reactor vertical winding process possesses tidy and beautiful appearance as well as simple and reliable structure. Besides, the winded product is also free of surplus insulation tape (paper) package. The winding, which is directly in contact with air, possesses the advantages of good heat dissipation and low temperature rise.
A Comparison Report Based on the Test of ACL Series of Products
Reactor Type
The conventional process test results
The vertical winding process test results
 
Coil temperature rise (K)
Core temperature rise (K)
Coil temperature rise (K)
Core temperature rise (K)
ACL-30
33.6
31.2
41.6
26.8
ACL-40
52.7
26
62.6
28.9
ACL-50
36.5
23
 
 
ACL-60
50.7
13.4
41
24.3
ACL-80
 
 
50.1
26
ACL-90
94.8
33.9
59.1
22.4
ACL-120
72
43.4
88.6
39.4
Comparison Test Report of the OCL series of product (Test method: reactor takes the load for the inverter)
Reactor Type
The conventional process test results
The vertical winding process test results
 
Coil temperature rise (K)
Core temperature rise (K)
Coil temperature rise (K)
Core temperature rise (K)
OCL-30
33.6
31.2
41.6
26.8
OCL-40
52.7
26
62.6
28.9
OCL-50
36.5
23
 
 
OCL-60
50.7
13.4
41
24.3
Product Size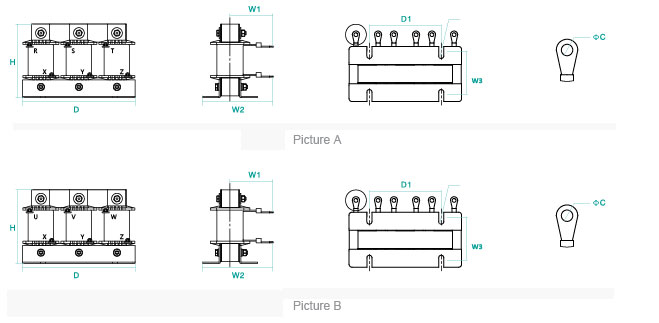 ACL Series of Spectrum
| | | | | | | |
| --- | --- | --- | --- | --- | --- | --- |
| Reactor Type | A Current | Length | Width | Height | Installation dimension 1 (mm) | Installation dimension 2 (mm) |
| ACL-0030-EISCL-EM47 | 30 | 200MAX | 116±10 | 130MAX | 72±1 | 120±1 |
| ACL-0040-EISCL-EM35 | 40 | 200MAX | 116±10 | 130MAX | 72±1 | 120±1 |
| ACL-0050-EISCL-EM28 | 50 | 200MAX | 131±10 | 160MAX | 72±1 | 120±1 |
| ACL-0060-EISCL-EM24 | 60 | 200MAX | 131±10 | 160MAX | 72±1 | 120±1 |
| ACL-0080-EISCL-EM17 | 80 | 200MAX | 136±10 | 160MAX | 72±1 | 120±1 |
| ACL-0090-EISCL-EM16 | 90 | 200MAX | 136±10 | 160MAX | 72±1 | 120±1 |
| ACL-0120-EISCL-EM12 | 120 | 200MAX | 171±13 | 160MAX | 92±1 | 120±1 |
OCL Series of Spectrum
| | | | | | | |
| --- | --- | --- | --- | --- | --- | --- |
| Reactor Type | A Current | Length | Width | Height | Installation dimension 1 (mm) | Installation dimension 2 (mm) |
| OCL-0030-EISCL-EM23 | 30 | 200MAX | 116±10 | 130MAX | 72±1 | 120±1 |
| OCL-0040-EISCL-EM18 | 40 | 200MAX | 116±10 | 130MAX | 72±1 | 120±1 |
| OCL-0050-EISCL-EM14 | 50 | 200MAX | 131±10 | 130MAX | 72±1 | 120±1 |
| OCL-0060-EISCL-EM12 | 60 | 200MAX | 131±10 | 130MAX | 72±1 | 120±1 |